As I have been doing a lot of road biking recently, I found a cool example on how Open Data allows me to fix problems in otherwise proprietary services and so I decided to share this happy moment in this blog post.
As I already wrote in a previous post about trip planning for road bikes all of my road bike excursions are planned ahead of time at the PC and during the trip I use my Garmin eTrex only to superimpose the prepared GPX on a bike friendly rendering of the OpenStreetMap data. As a side note - at the beginning of my experiments with cycling and GPS I tried the interactive and audible turn indications of the Garmin device but found the simple map display to be better suited for myself.
However contrary to the previous post I switched from using GraphHopper to the paid service of Komoot for this planning. As far as I can tell it also uses GraphHopper under the hood for the routing, but it allows me to come up with much more pleasant routes to cycle thanks to the "highlights". This feature allows the Komoot community to mark especially nice locations or, even better, whole track segments especially suited for some activities. So there are "Hiking highlights", "MTB highlights" and of course "Road bike highlights" that can be integrated into your own planning by a simple mouse click. Through this feature I already got to know some very nice quiet back roads in the vicinity that I was not previously aware of.
Even Good Things Can Be Improved
Having selected "Road Bike" in the Komoot planner, the suggested route will usually be only on asphalt, but on one of my recent trips I encountered 500 meters of gravel. Of course, this is only a small inconvenience but as this was the only glitch on this 101 km trip, I decided to find out if I can fix this for the future and for other cyclists as well.
Back home it was only a matter of seconds to find that the segment was indeed the preferred connection of points A and B from my trip for road bikes. The screenshot shows this route and the problematic segment in green: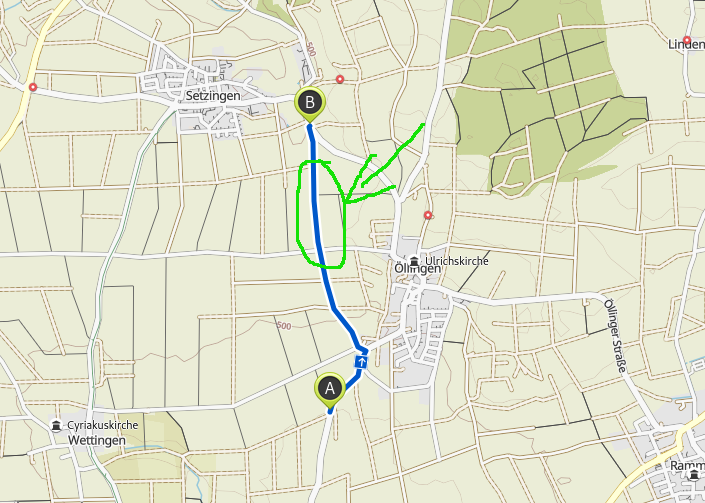 Figure 1. Routing Problem
The Analysis
As I knew that Komoot relies on the OpenStreetMap data, it was clear that the OSM data needs to be scrutinized in the highlighted area. Back in 2010 when I started doing occasional OSM edits this required installing a clunky Java application but in the meantime, editing in OSM is only one click away from the map view in the browser:
Figure 2. OpenStreetMap View
The Solution
It needed some catching up with the basics of OSM editing, but in the end it was easy to split the "highway" such that I could mark up the erroneous segment with "surface=compacted" instead of "surface=asphalt". All in all the change took less than five minutes.
For three days I kept checking Komoot daily in the hope that it would pick up my edit but nothing happened. With other things on my mind I only checked back after two weeks but then finally I was happy to see that the suggested route now follows the main road and evades the gravel segment: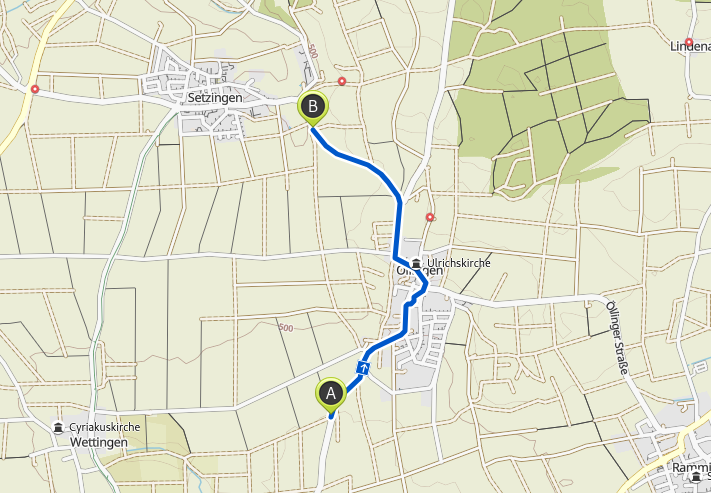 Figure 3. Fixed Route
From the time lag it is clear that Komoot works on its own snapshot of OSM data and syncs only every few days with the upstream project.
Summary
Whenever you enjoy a well planned route on your bicycle, you should be thankful to the countless OpenStreetMap volunteers who made this possible in the first place. The quality of OpenStreetMap is simply amazing and usually more up to date than the commercially available maps. A big thank you from myself - you know, who you are.
But if you do encounter such a glitch in the route, why not check if you can fix it yourself by becoming an OpenStreetMap contributor to improve the situation for everyone.