Already in a previous post I wrote about fixing the OpenStreetMap data for better routing results for road bikers.
Recently another one of my cycling excursions led me through terrain where OSM was not reflecting the current situation anymore. Where it was previously possible to use the asphalt track next to the small forest strip on the north west corner of the Wilhelmsburg in Ulm, the military installation now extended the private area through a large fence. New gravel tracks are provided for the public as a replacement. As OSM still contained the asphalt track as passable, Komoot of course used it in its road bike routing setting.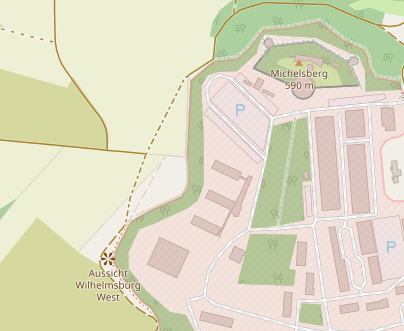 Figure 1. Fixed Map
Thankfully, OSM nowadays is allowed to use recent Bing aerial photography. Firing up the iD editor running inside the browser it is very easy to correct such minor problems quickly. The quality of the aerial photography allows discerning different track types and thus made the necessary changes a breeze.
However the complete changes then took much longer than expected when I realized the changes effect a hiking route in and around Ulm. In OpenstreetMap such a route is represented as a relation linking together the constituent objects. For the Ulmer Höhenweg Nebenroute Nord this boils down to quite a few segments. Editing relations in iD was new to me and I found it difficult to find the segments in question and finally remove them. But after half an hour the edits were finally in place and once Komoot picks up the new database should not route road bikers through this area anymore.